An experience you will remember forever!
YOU CAN ENJOY THE BREATHTAKING VIEWS OF THE SEA OF SARDINIA
We will set off in a comfortable inflatable boat equipped with a canopy for shade, which is also fixed while sailing or sailing. Our experienced skipper will introduce you to unique spots reachable only by sea. You will be forever fascinated and enraptured admiring these unspoiled places of unique and extraordinary beauty!
Complete your vacation in Sardinia with this fantastic excursion in the crystal clear waters of our sea
What we will see
We'll take you to deserted beaches, small coves unknown to tourists, the most famous ones like Punta Molentis, Porto Giunco, etc. We'll discover the history of Spanish towers, swim on starfish, and eat a tasty meal on board. You will be in a setting that has been pristine for millennia and hopefully will remain so forever!
Itinerary
Departure from the port of Villasimius, visit Isola dei Cavoli with the possibility of visiting the lighthouse (and the museum inside it) built in 1856 on a Spanish tower from 1591. Afterwards we will sail to see Porto Giunco, the beach of Punta Molentis, the swimming pools of Castiadas (Cala Sa Calazziga) and depending on the winds you can visit the "Isola di Serpentara", Cala Pira or Cala Pisanu.
An exclusive aquarium where you can swim and snorkel!
Thanks to the warm sea temperatures of southern Sardinia, in addition to the various Mediterranean types, it is easy to meet triggerfish and other tropical species. If you are lucky you can see the dolphins and the Caretta Caretta turtles that use the beaches of Castiadas and Villasimius to lay their eggs on the beaches .
Isola dei Cavoli
Isola dei Cavoli is a small granite island in the extreme south-eastern offshoot of Sardinia, less than a kilometer from Capo Carbonara, a borderland of unparalleled beauty, immersed in a wild and protected naturalistic context
Our proposals
You can choose to have this experience on a dinghy or on a sailboat, shared with other new friends or exclusively with the people you want
Full day on a rubber dinghy
Timetable: 10.30AM - 4.30PM

Exclusive (max. 6 people): € 350.00

Included in the price: Skipper, fuel, snack and drinks.

Possibility of sharing this experience
Full day in Mini Yacht Walkaround
Timetable:
MON. - SAT.: 10.30AM - 4.30PM
SUNDAY: 2.30PM - 8.30PM

Exclusive (max. 4 people): €600.00

Organised group (max. 8 people): €750.00

Sharing (max. 8 people): €120.00/each.

Included in the price: Skipper, fuel, snack and drinks.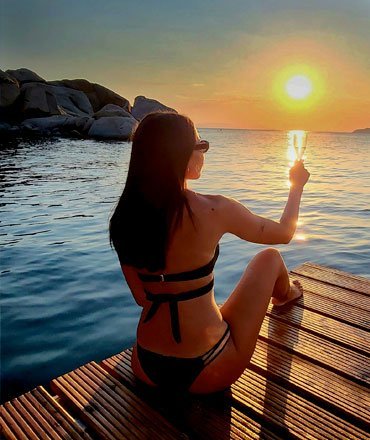 Sunset aperitif in Mini Yacht Walkaround
Timetable: 5.00PM - 8.00PM

Exclusive (max. 4 people): €400.00

Included in the price: Skipper, fuel, snack and drinks.

Possibility of sharing this experience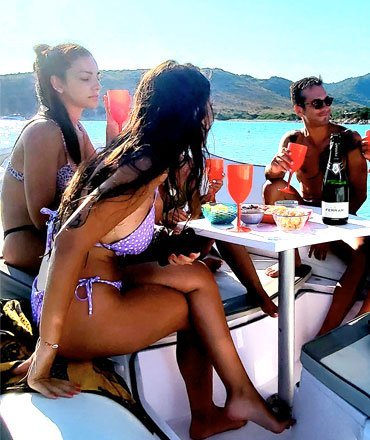 Sunset aperitif in an inflatable boat
Timetable: 5.00PM - 8.00PM

Exclusive (max. 7 people): €250.00

Included in the price: Skipper, fuel, snacks and drinks

Possibility of sharing this experience
Night at anchor in Mini Yacht Walkaround
To sleep under the stars and moonlight

Timetable: 6.00PM - 9.00AM

Esclusive (max. 4 people): €650.00

Included in the price: Skipper, fuel, dinner with drinks and breakfast
Our inflatable boat
Our dinghy can accommodate up to 8 people (skipper included) and is equipped with a shade canopy that can remain fixed even while sailing.
Our Mini Yacht Walkaround
Our Walkaround Mini Yacht is equipped with all amenities. It has 2 sundecks, 2 tables for eating, outdoor kitchen, shower, bathroom and awning for shade. In addition, thanks to the 2 cabins, it can accommodate up to 4 people for overnight stay, thus allowing the unique thrill of spending the night at sea.
Experience in the coves of Baunei
Departure from Santa Maria Navarrese , we will see Cala Goloritzé, Cala Mariolu, Cala Luna, Cala Tramontana, the Piscine di Venere, Cala Sisine and the Grotte del Bue Marino.
Exclusive (max. 6 people): € 480.00
Included in the price: Skipper, fuel, cutting board Sardinian and drinks

Possibility of sharing this experience
Superb day on a rubber dinghy, thanks to the experience and friendliness of Manuel who leads and describes the most hidden and beautiful places in the Villasimius area. We took a bath in several places and admired the crystal clear seabed. Very high quality / price ratio, including an excellent aperitif and drinks! We had a really great time, we recommend it and we think it really suitable for everyone!
We did a full day on a dinghy with lunch on board in late August. Amazing experience with excellent value for money. Unforgettable the dives in the coves and the stops at Punta Molentis and Cala Pira. Sandro was also a great commander and a special person.
Super recommended experience! We had a day with the skipper Sandro who accompanied us to visit all the most beautiful coves, not reachable without a boat. Wonderful day, very welcome lunch on board. A special thanks goes to Sandro who gave us a unique and unforgettable experience. Thanks again.
Dive into paradise! It's like daydreaming! If you want to spend a wonderful day on a rubber dinghy discovering the most beautiful unspoiled beaches of Sardinia, I recommend you rely on Manuel. A great professional and a generous person, with whom to spend unique and unforgettable hours. He fulfilled all our wishes, making us bathe in unique waters in the world, shooting everything with the drone. The lunch was succulent, with local and quality products. Thanks Manuel for every emotion you gave us. EXPERIENCE NOT TO BE MISSED ABSOLUTELY! Please don't let them tell you! See you next year!
During our excursions we offer our kind guests a snack of cold cuts and cheeses typical of our land. These top-quality products are provided to us by "Bontà della Sardegna" (https://www.bontadellasardegna.com). If you wish, you can visit their site, which also allows online purchase of a variety of Sardinian products with home delivery throughout Italy.
Be amazed by our passion and professionalism!
We are at your complete disposal to make your stay in Sardinia the BEST VACATION EVER,!
Call or contact us by WhatsApp
FILL OUT THE FORM TO ASK FOR INFORMATION AND AVAILABILITY